Welcome to
The Wellness Project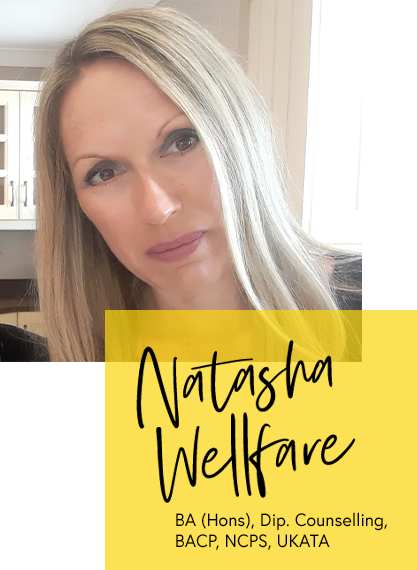 I help individuals and companies improve mental health.
Life is challenging and we all get pulled off centre, either by traumatic events or day to day strains. As a Mental Health Counsellor, I am trained to help people who are feeling stuck and overwhelmed. It is my belief that if we find the right approach for you, using an appropriate level of support and challenge, change will take place.
My main modality is Transactional Analysis – a creative, evidence-based model of psychotherapy. I am a member of the BACP, accredited by the NCPS and am proud to be an Anxiety UK approved therapist.
I work with Anxiety, Depression, Relationships, Bereavement and Trauma and I have a special interest in Teenagers & Young Adults, Couples, Fertility and Men's Mental Health.
Whether you are a big company looking to improve mental health across your organisation or an individual needing support – I want to help you. Get in touch for an initial consultation.
"I was nervous about starting counselling with Natasha as I had not had any before, but from the moment I met her she made me feel at ease. Natasha was warm and welcoming and I found it easier than I thought to open up to her and talk about my problems. I felt I was able to express my problems and worries without being judged and Natasha really helped me through a bad time. I would highly recommend her."
NHS Client
"I hadn't realised how much it would help, just being able to talk to someone a bit more detached from my issues. Natasha was wonderful. Easy to talk to and knowledgeable. She was able to give me some great advice and tools to carry on helping me in the future."
NHS Client
"I feel Natasha shaped her approach to meet the needs identified by our conversations. This demonstrated a really authentic and flexible approach which gave me huge trust and confidence in what we were doing. I think we covered much more ground that I could have hoped for and I feel able to identify where I need to focus now - it felt very unclear initially to me. She sent me a couple of really useful pieces of material which helped immensely."
NHS Client