Welcome to
The Wellness Project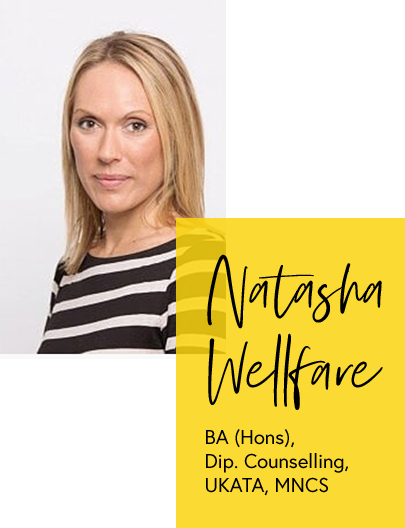 I help companies and individuals improve mental health so that people can be happy in the now.
I think life is too short to wait for happiness.  It is because of this that I am fascinated in the human condition and what it takes to be 'well'.  People are unique and so they don't all follow the same route to happiness.  In my work with companies and individuals, I draw on psychotherapy, Montessori philosophy, yoga, movement and mindfulness practises to help people find a more comfortable and vibrant way of being in the world.
Whether you are a big company looking to improve mental health across your organisation or an individual needing support – I want to help you.  Get in touch for a free consultation to see if we are the right fit for each other.  Some of the taboo around mental health is finally shifting.  I invite you to get the support that you need.  Don't wait for happiness.  Be happy in the now.
"I was nervous about starting counselling with Natasha as I had not had any before, but from the moment I met her she made me feel at ease. Natasha was warm and welcoming and I found it easier than I thought to open up to her and talk about my problems. I felt I was able to express my problems and worries without being judged and Natasha really helped me through a bad time. I would highly recommend her."
NHS Client
"I hadn't realised how much it would help, just being able to talk to someone a bit more detached from my issues. Natasha was wonderful. Easy to talk to and knowledgeable. She was able to give me some great advice and tools to carry on helping me in the future."
NHS Client
"I feel Natasha shaped her approach to meet the needs identified by our conversations. This demonstrated a really authentic and flexible approach which gave me huge trust and confidence in what we were doing. I think we covered much more ground that I could have hoped for and I feel able to identify where I need to focus now - it felt very unclear initially to me. She sent me a couple of really useful pieces of material which helped immensely."
NHS Client
Book a free trial session
Sign Up!
Fill in your email below to stay in the loop with what's going on and helpful tips!