Wellness at Work
60% of employees say they'd feel more motivated if their employer supported mental wellbeing.
At The Wellness Project we support organisations by creating bespoke mental health packages.
We draw on many years of training and experience in Transactional Analysis Psychotherapy, Yoga, Meditation and Mindfulness. Our support packages are both theoretical and experiential. We believe this is the best way to learn about mental health.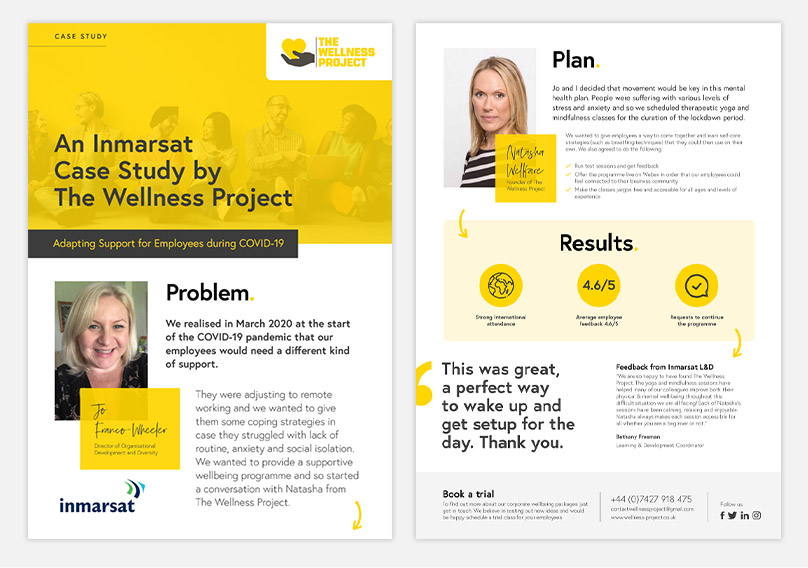 Our Packages
Mental Health 101
Imposter Syndrome
Mindfulness and Meditation
Therapeutic Yoga
Managing Stress and Anxiety
Building Relationships
Parent Support
Healthy Remote Working
How We Deliver
Online and Face to Face
Half Day Workshops
Tasters
Weekly Classes
1:1 Support
Why Work With Us?
Tailor Made Programmes
Expert and Experienced Trainer
Accessible for all Employees
Lunch-time Friendly
Theory and Practise
Average Employee Feedback 4.6/5
2 Minute Mindfulness Challenge
Take the 2 minute mindfulness challenge. If you feel calmer and more focused after just 2 minutes – think what a whole yoga class could do for the mood, productivity and outlook of your employees!
Fees
Our fees vary according to your needs. We will happily cost up your programme with no obligation.